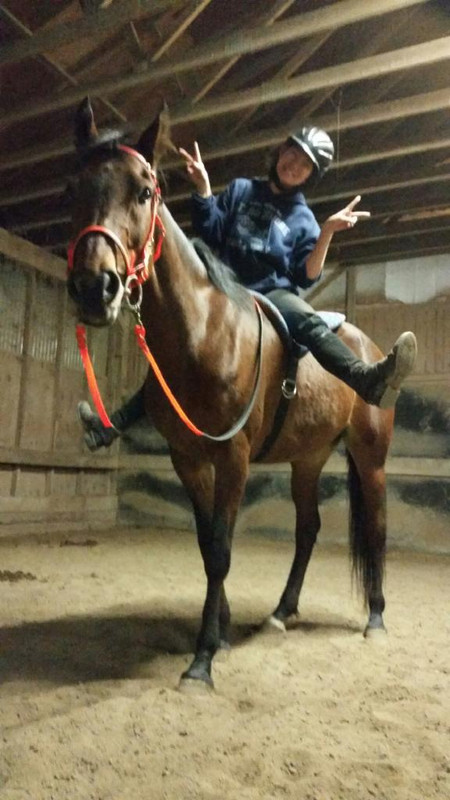 Hi! I'm Grace, born and raised in North New Jersey.
Before getting into horses, art was my passion and primary hobby. I'm a 100% self-taught artist and costume builder and have worked with clients around the world bringing their ideas to life. I enjoy exploring different mediums and am currently teaching myself how to use watercolors. If I'm not drawing or riding, I enjoy hiking, archery, and kayaking.
I've loved horses all my life but did not get a chance to ride until I was around 12 years old when I attended a week-long summer camp that offered horsemanship lessons. I begged my parents to sign me up and was instantly hooked the moment I stepped into the barn. After camp ended, I wanted to continue taking lessons but other things took precedence and riding became a fond but faint memory.
Twelve years later, on October 22, 2013, I was finally able to begin my equine education in earnest as an adult beginner taking riding lessons at a local barn near home. I was an insatiable student during and outside of my lessons. Very quickly, 30 minutes of ride time once a week was just not enough. Three months later, I started leasing my first horse in February 2014 where I quickly discovered that I was an avid (and dauntless) trail rider with a need for speed. I'm not exactly sure how or when I discovered endurance riding but I knew I wanted to go faster and further. The idea of spending hours in the saddle on the open trail sounded like heaven on earth.
On August 22, 2014 I took a chance on a half-Arabian bay mare abandoned at auction and became a first-time horse owner. I began this blog as a place to share my adventure in first-time horse ownership as well as stories on the trail as I figure out the sport of distance riding.
As a child, I was envious of birds who were able to take flight and go anywhere whenever they wanted. To me that was freedom, to me that was living. Learning how to ride gave me the ability to experience the world on borrowed wings from the back of a horse. When I ride, I feel limitless, free, and most of all grateful that I have the privilege to connect & interact with horses. No matter what was going on that day in my life, when I am with my horse, it is a reminder to live in the moment and make the best of every moment.
Thanks for reading along!