I've been SO busy for the past few weeks that keeping up with blogging has been a challenge in it of itself. A lot of riding and horsetime has been happening though!
About a month ago, I spent 10 days in Europe for my honeymoon and it was absolutely fantastic. W and I put together the whole trip ourselves so everything about our experience was 110% what we wanted which made it a lot more fun. As you all know, I've made it my personal goal to ride in every new place I visit and this trip was no exception. Fortunately W is completely supportive of this endeavor and we managed to fit in two rides during the 10-days.
Our first ride was in Mallocra, Spain. When I had contacted the barn months ago to make a reservation, the replies I received were in very stilted English. True enough when we got picked up at our hotel on the morning of the ride, the driver Tony (who also happened to be the barn/business owner) spoke only Spanish. Despite the language hurdle, we all managed to get along just fine.
W had taken some Spanish in high school so he was able to somewhat communicate with Tony better than I could. Fortunately for me, horseback riding is pretty universal so I just did what I normally did and we pantomimed and used context clues for the details. After outfitting us with coats for the impending rain, Tony handed us halters and led us to the pasture to meet our mounts for the morning.
I was paired up with Piropo, a cute dark bay 15 year old Andalusian x Hanoverian gelding. He had an amiable personality and I knew we were going to get along well. After saying our hellos, we led the horses to the stalls to groom and tack up. I was left to my own devices while Tony helped out W.
After a quick tack check, we headed out to the yard to mount up. I immediately knew I definitely liked Pipiro- he was quick, eager, though never felt dangerous. As we headed out to the trails, Tony continued to coach W as I helped by translating through context. W was a good learner and we were able to get in quick trots and even a couple galloping sets during the 2-hour ride. The fact that it was just the two of us made it a million times better since everything was customized to how game we were for speed and pacing. Tony was wonderful enough to trust me to take point along the ride and Pipro was a professional the entire time.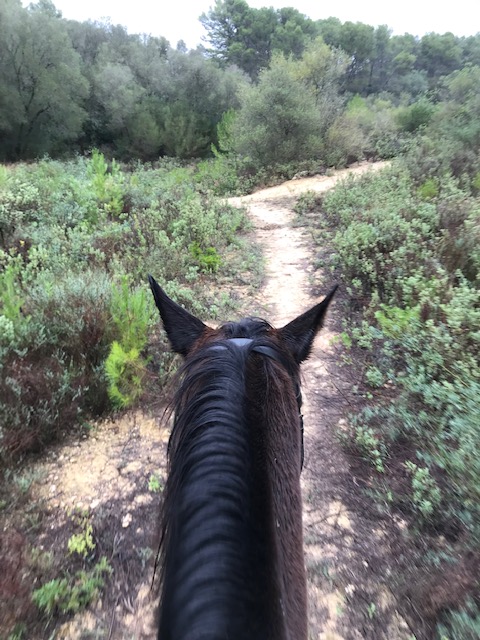 Leading a few parts along the trail-
it was rugged yet beautiful landscape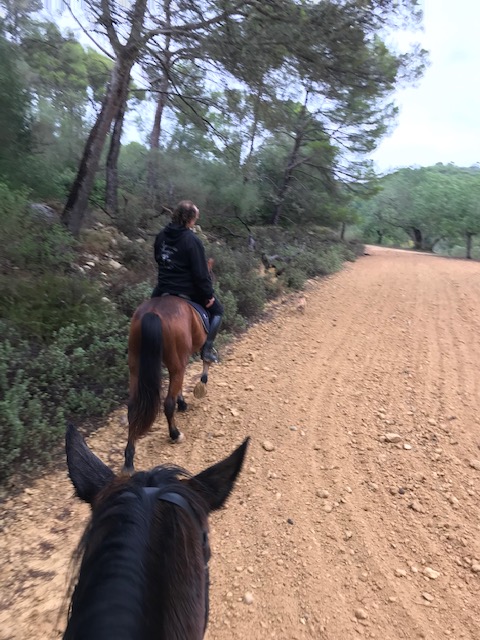 Riding along an agricultural field.
There were rocks everywhere all the time.
Our second horseback riding stop was several days later the outskirts of Barcelona, Spain. W and I booked a excursion-style tour for this one for the ease of traveling out to the countryside without dealing with public transportation. The group included several beginners and the tour was advertised as a walk-only ride, which was perfectly fine by me since the views were absolutely breathtaking and I needed every moment to soak up the majesty of the mountain vistas.
As we pulled up to the barn, I couldn't help but eye the horses and immediately mentally picked out a chestnut mare that I was nearly 100% sure was an Arabian of some sort. To my immense delight, I was paired up with the mare- cute 6yo chestnut Arab named Mariposa, which means "butterfly" in Spanish.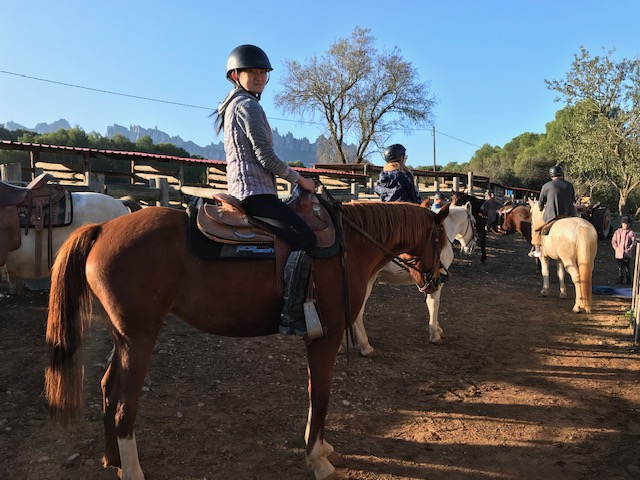 Cute mare and some views of the "serrated" mountains in the background.
Once the group got matched up with their mounts, we set off in an orderly, sedate line and enjoyed a wonderful 1-hour long meandering ride in the Spanish countryside with gorgeous views from the base of Montserrat. Later in the day we would take the cable car down after visiting the abbey that was built into the mountainside. It was a beautiful day for riding.
The rest of the honeymoon before, after, and in between were unforgettable as well. Though the fact that we managed to fit in two trail rides in different countries made me incredibly happy and as always, so very grateful that W had a smile the entire time. Traveling to a new place is fun, but adventures are definitely a million times better when enjoying views from between two ears!