While I consider myself pretty new to the distance riding sport, I think have read and seen enough to conclude that the endurance riding terrain in the NE is rather diverse...sugar sand, open fields, rock ledges, large gravel, sustained hill climbs, hard pavement. You name it, our rides probably have it in some form or fashion.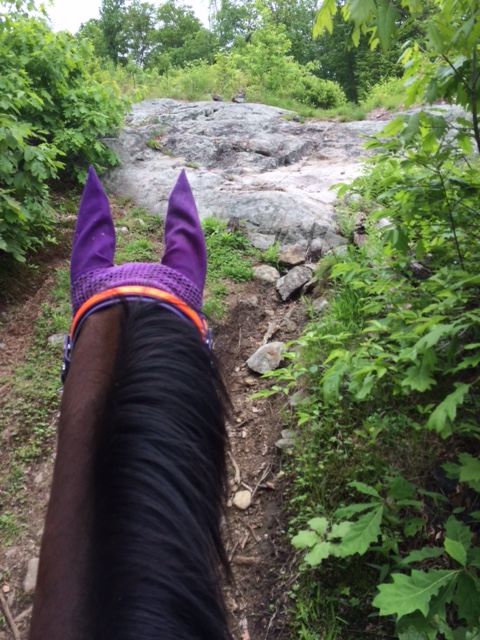 As some might have noticed, I have been making a point to check out new places to ride from the barn each time I hit the trails with Quest. Asides from exploring our new-to-us home, the end goal from the beginning was to build up a "library" of trail terrain types for conditioning dependent on the ride we want to attend in the future. And while I now do have the option to haul out for conditioning (and plan on that when the ride date gets closer), if I can do most of my riding right from home that is always infinitely all the better for my time and wallet.
As with any any sport, you should train in what you will compete in. Thanks to trail adventures during 4-5 months of leasing Rori, I already knew OF had direct access to trails but I didn't know if it was enough and what they had for terrain type. Fortunately the first part has been resoundingly answered- we've got miles upon miles and still more to explore. The second though has been more difficult to resolve.
From our explorations so far, I can safely assume we have a LOT of the rock variety. With the amount we have at home I think we might have OD in the pocket.
As a result of tackling tough terrain like this almost every time we go out, Quest has actually gotten quite good at carefully picking out her path while moving swiftly down the trail. However the obvious huge downside is we need the complete opposite- flat level footing that allows us to really move out. And sure, it is entirely possible to condition by doing endless laps in an arena or pasture but that can only get you so far before both horse and rider brain are totally fried...as evidenced here by yours truly.
As a temporary solution, I have been using gravel road hills (and booting appropriately) to clock in some cardio at speed but what I desperately missed were the flat, level rail and canal trails. This was the only kind of footing we had at WSS for training and it was great for slogging out quick fast miles in a short amount of time.
While surveying maps last week, I decided to take a closer look at a trail that had I always paid little attention to until now. I had passed the entrance numerous times and when I asked JA about it, she had dismissed it as not really worth riding. Being ever curious and determined, I still wondered about it though so we finally gave it a shot this weekend.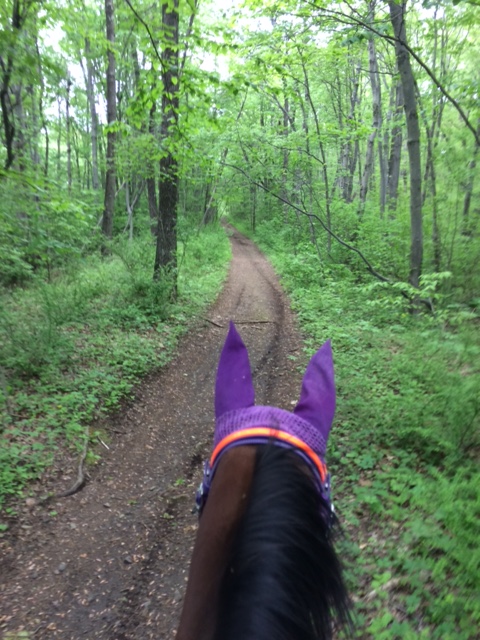 Eventually the trail gave way to this lovely sight.
The trail is broken up with gravel patches so we had slow to a walk and it's a little less than 2 miles, so about 4 miles for a there-and-back. I'm not complaining though since I can easily boot Quest all around and we do multiple loops here for sustained trots and round out our rocky trail outings with some some flat speed. Now all we need are some wide open fields!