Monday, August 7, 2017
When Quest first came up lame, the barn worker suggested it might be Lyme since there was a huge outbreak at the barn this year. I was doubtful since she didn't exhibit any of the other symptoms at all. She was content, fat, and sassy. But of all the things to go possibly wrong, I'd take an abscess or Lyme over any other injury. It's strange how owning a horse changes your world perspective...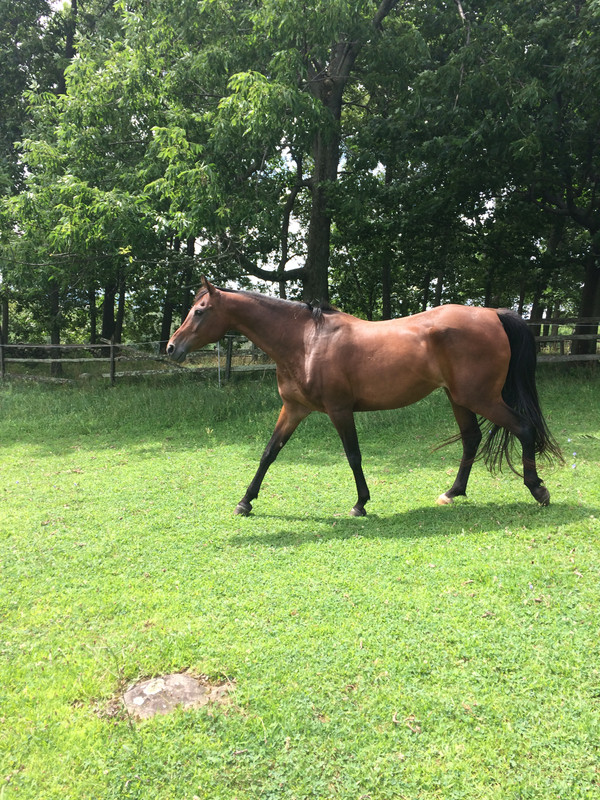 After immediately ceasing all work, I did my own quick diagnostic. I could tell the issue was on her right diagonal. There was no heat/swelling around the hoof or legs and zero reaction when I palpated suspensories (thank goodness). Other than the lameness Quest was totally fine so I opted to do a bit of wait and see. After almost a week of rest though, mareface was still NQR so I got the vet out. With nerve blocks, Vet K isolated the issue to the RF heel, took radiographs, and currently we have it diagnosed as caudal heel pain, possible soft tissue injury. It seriously sucks that we could be dealing with a similar issue yet again but the vet said prognosis is good overall.
After giving it some thought, it's really is a matter of form follows function. If you have bad form, there is bad function. Quest is slightly clubfooted on that leg. It has been a repeat offender and source of grief for two years out of three. From the very start, I have been responsible for her trims and used a professional to reset/check my work regularly. We have zero issues when doing rides in the arena or meandering on trails. However when the workload increases to include longer and faster mileage, that's when things appear to start falling apart.
Looking back, I dare to venture that this was about the same point in our training/conditioning timeline that the suspensory injury surfaced. The signs seem to point that Quest needs extra help to stay sound and active. This means corrective shoeing, which is something way beyond basic owner maintenance work. One of the things J mentioned to me right before we left WSS was that she would put front shoes on Quest if she were her horse. A year later, and probably none the wiser, I am finally going to do just that. We will see how the shoes work out and move on from there.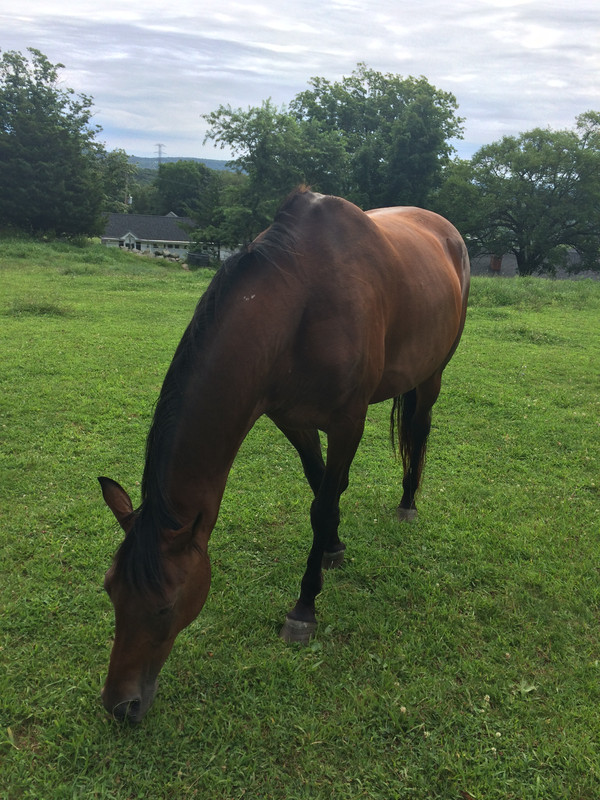 This newest development will change a few things in terms of management and competition. Obviously first is adding the front shoes but I guess on the upside, I now have more than enough Gloves for her hinds and for spare tires. As for competition, I'm not sure what the future holds for us distance-wise. As much as I would have loved her to be my first 50/100-miler horse, she may be limited to CTR/LD distances only. This will largely depend on how she holds up to future conditioning mileage. If the corrective shoeing proves to be the answer, maybe we could venture into the realm of longer CTR-format distances like a 2-day 50 or 3-day 100.
It's not the best news but we do have a game plan lined out with plenty options. I knew getting into distance riding with my own horse would be difficult but this has honestly not been an easy journey, especially with so many setbacks right from the onset. I've never been one to go down without a fight though, and we are not giving up just yet.
Tuesday, August 1, 2017
It has been two years but I finally made it back to Muckleratz CTR in PA for a weekend of camping and riding with great company and horses. How this came to be is a whirlwind of a tale, but I'm grateful this opportunity happened when I simply needed something positive horse-wise going on in my life.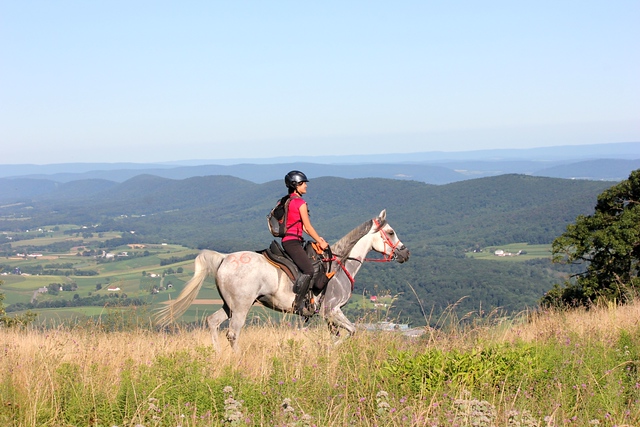 Photo credit: Mike and Dom Turner
Two weeks ago while I was stressing over finding a vet to come check on Quest, my friend L sent me a text late one evening to ask if I was interested in riding Romeo at Muckleratz again. Older readers will remember that we first got paired up for
my first ever CTR event
back in 2015. At that point in time I had just started riding with barely 2 years of experience, but this was the event that sealed the deal that I wanted to do distance riding as a discipline.
Romeo's owner C had unfortunately injured her back recently but her horse was conditioned and ready to go. L gave me first dibs and said the ride on Sunday was mine if I wanted it. The entire thing was and felt super last minute. In the week leading up to the ride I would be out of town in TX doing training presentations for work. I'd then fly home Friday afternoon, leave for ride camp on Saturday morning, and do the ride on Sunday. It wasn't a whole lot of time to physically and mentally prepare myself. But after giving it some thought, I got that familiar nagging instinct feeling and it wouldn't go away. I told L to count me in. C called me a few days later and we were able to catch up. She was bummed about being injured but very excited that I would be taking Romeo out again.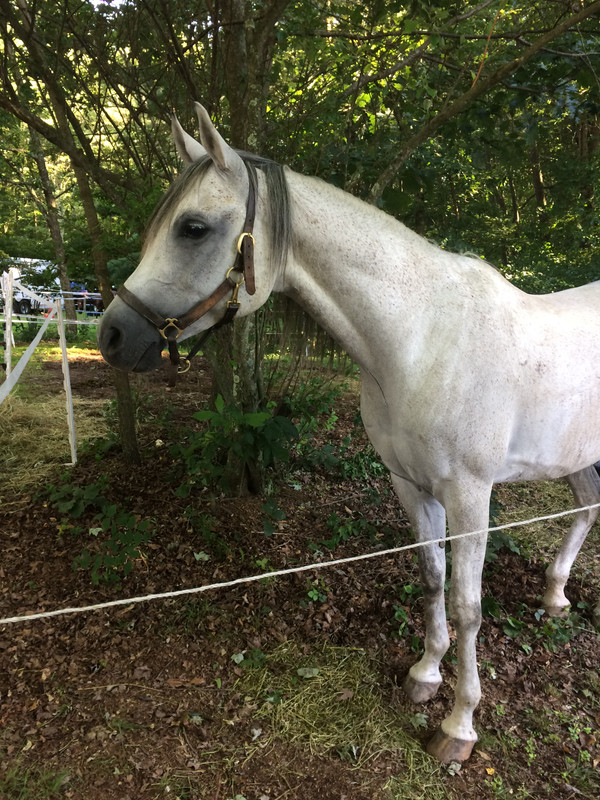 Ride weekend started off a little ominously...My flight home on Friday ended up getting in almost 3 hours after the scheduled arrival time. Instead of a leisurely evening to unwind and relax, I barely had time to speed pack and load the car before making myself go to bed early. The weather forecast also called for rain and thunderstorms on Saturday so I glumly included extra sets of clothes and rainwear. It was supposed to clear up by Sunday but the trails could be sloppy and wet.
On Saturday morning, I stopped by OF to attend a boarders barn meeting and checked on/groomed the mareface. Quest is looking better and still full of herself. I spied her trotting in the upper pasture even. Long story short, the vet said the prognosis is good. I'll do a full update with thoughts and future plans after I have the vet out for a follow-up and I get a better idea of what we're dealing with. Please keep sending us good thoughts!
After the barn and a quick lunch, I got on the road. I made good time and pulled into ride camp 3 hours later. The Saturday ride had finished up and everyone was lounging around. I found where my group was set up and settled in with hellos and introductions. We sat around chatting until it was time to head up for dinner and the ride meeting.
I found
Dom
and her husband at dinner, or rather they found me haha I am glad Dom called my name when she did because my tired brain was barely functioning at that point. They were doing the ride pictures that weekend and it really nice to see them again. I also got to finally meet Herbie and Julio too! After the meeting, everyone went back to the trailers to sit around and talk but it got really cold as the hours waned. I was feeling exhausted and finally made my way to bed. L was kind enough to let me crash in the backseat of her truck so I had more room.
Having more room didn't necessarily mean it was more comfortable though. I only slept for a few hours at a time and woke up before my alarm on Sunday morning. At first light I got changed, grabbed breakfast, and started helping get the horses ready.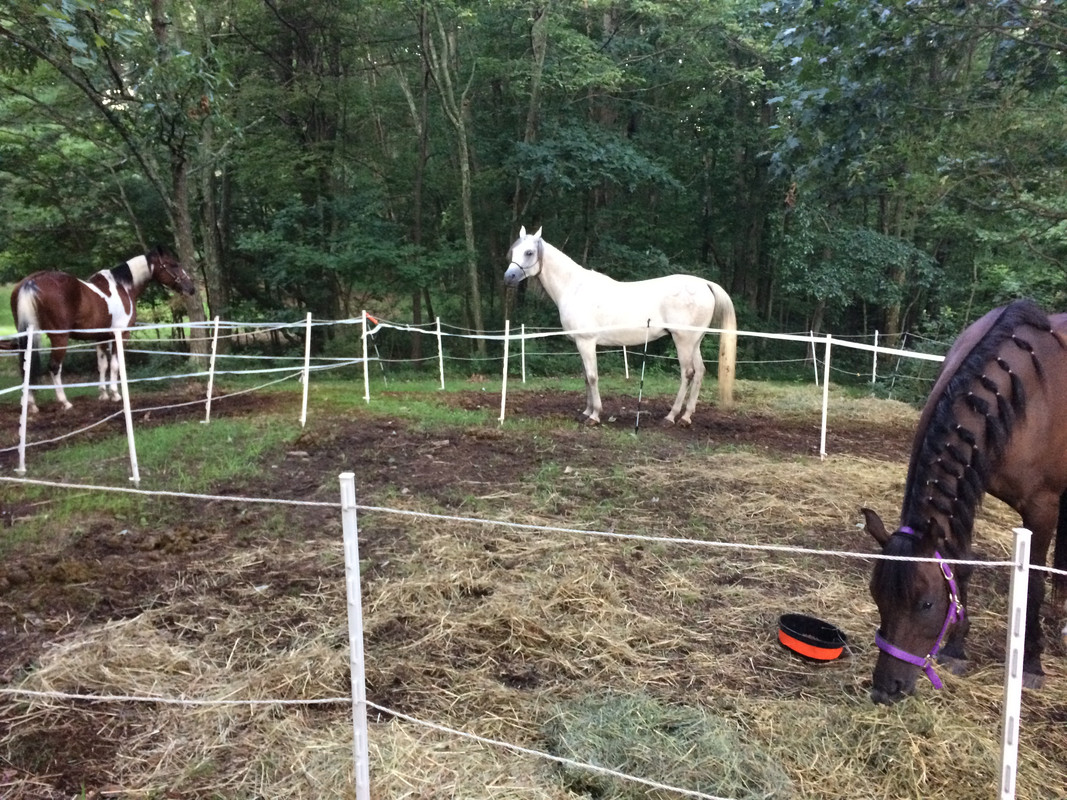 Poor Romeo was still shivering through his blanket so after tacking up, we kept a cooler on him and walked until L and I got called to start. It was cold when the ride began but it soon warmed up. I had to shed my hoodie after about 3 miles in and somehow managed to cram it inside my hydration pack. L was in awe that my bag could still zip shut lol
Despite not having been at Muckleratz in two years, I still remembered the trail and the miles flew by quickly. Romeo and L's horse Jack train together so they worked well all day with zero issues.
The weather was unseasonably cool for this particular time of year so it was awhile before Romeo had to be sponged and tanked up on water. Everything was going well but I noticed that the poor guy would trip every so often, and it continued to happen probably about once a mile. C mentioned that he had been doing that on trail yesterday too so I didn't go flying off when it happened. It was a little worrisome but he was still moving out evenly and briskly.
At the halfway hold, Romeo pulsed down and trotted out with zero issues but he picked halfheartedly at his extensive food buffet. C gave me a water bottle holster full of carrots and instructions to feed as much as I could on the 2nd loop. The holster was totally empty by the time we arrived back at camp again for final trot out and vet in.
At the hands-on evaluation, Romeo only got 1.5 points off overall and we were sitting pretty with a 98.5/100, which was our reserve champion score from two years ago. However we got knocked 2.5 points during the trot out because Romeo didn't look as lively as he did that morning. He was sound but just did not have as much pep in his step at the end of the day. Our final score of 96/100 was still high enough to land us in top 10 though with satin and lots of neat goodies.
After talking it over with C, we both agreed that all the tripping on the trail did not help with the fatigue issue. Romeo probably spent a lot of mental energy trying to watch where he was going. While I made sure to steer us clear of big hazards, after two days of intense focus his energy level had to dwindle at some point. Romeo is also horse that never interfered or tripped in the past either, which speaks volumes about how he more than likely having an issue with his feet. C said that she would contact her farrier to have the problem fixed immediately. Hopefully with that addressed, the Grey Superbeast will be back to his usual awesome self.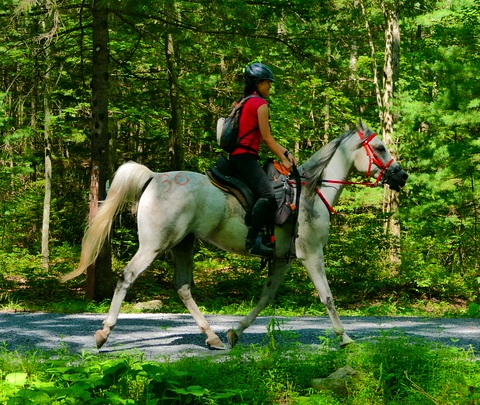 Photo credit: Mike and Dom Turner
Despite the lack of downtime from the work week, I had a great time and actually left the ride feeling emotionally refreshed in some strange way. Perhaps it was because this entire thing fell into my lap at the very last minute and worked out for everyone involved. The fact that L and C thought of me first as a suitable catch rider is something that I am incredibly grateful and humbled by. For me personally, just being able to compete again was something I really needed at this point in my life. It's no secret that I have been looking forward to getting back in it with Quest. This latest setback has been tough...I know we will get over this in time, it is difficult not to scream in frustration at times.
While distance riding is filled with its own share of challenges and drama, I still look forward throwing myself right back into the fray. A day of trail riding with good horses, great people, and breathtaking views- what more could anyone want?