Tuesday, August 9, 2016
Remember the little gray mare I couldn't stop raving about awhile back? Guess who got to ride her this past weekend!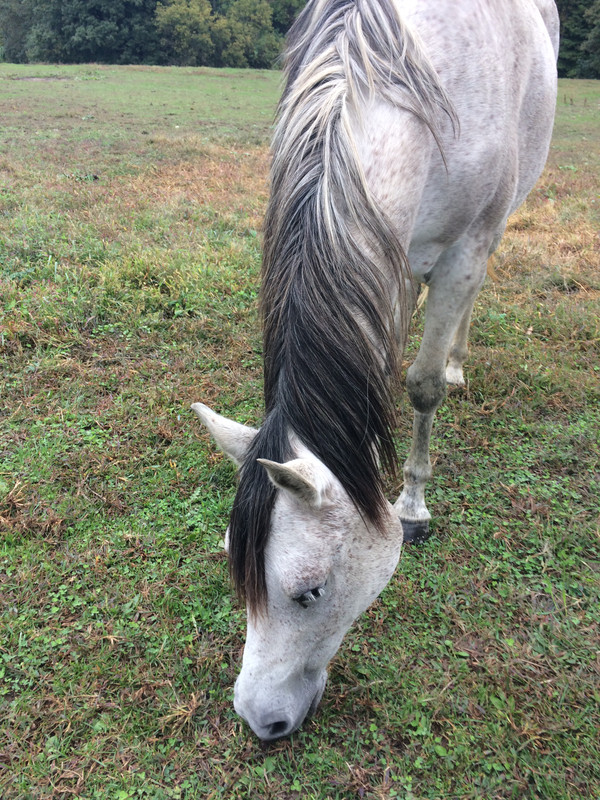 Tina is a 8yo Arabian mare that J got about a half year ago. Her previous owners bred her once and then pretty much let her sit in the pasture since then. From day 1, I couldn't help but fall in love with the little gray and her gelding-like personality. Whenever I went to fetch Quest from the pasture, Tina would walk up to say hello and I'd quietly rub her forehead, murmuring sweet nothings. Instead of wandering off afterwards, she'd often follow us through the field, never too far behind, until she was left behind the pasture gate.
Despite being green, Tina has impressed J and B with what she does know already- they think that she was broke at some point in time awhile back but has not been ridden or worked with consistently since then.
I had a good feeling about the little mare's endurance potential and happy to say so far my gut has been correct- B piloted the mare's first 30 mile LD at NEATO back in May and it was a total nonevent. Since the ride, apart from helping teach beginner round pen riding lessons, Tina has been enjoying pasture life.
This past weekend though, B graciously indulged me after my not-so-subtle hints and allowed me to try out the little gray mare out on the trail.
We were blessed with some amazing weather and did a fantastic w/t/c ride in the early AM. Since Tina still green in a lot of ways and I was just as new to her as she was to me, I was alert but remained relaxed as we made our way around the plentiful trail traffic of hikers, bikers, dogs, and cars. As luck would have had it, there was a road bike tour around the township that morning and we came upon quite a few people zooming by on the road.
Tina handled herself well for the most part. Cars seem to cause the greatest amount of angst still and resulted in some creative scoot-spooking. Fortunately it wasn't anything I couldn't deal with but I can tell she was definitely the kind of horse that if you worry, she'll start to worry why you are worrying! I also inadvertently found out the Velcro on my riding gloves was another source of angst haha We worked on that for a bit and she figured it out fast.
All in all, it was an incredible morning. The ride lifted my spirits like a breath of fresh air. I didn't realize how much I missed really moving out on the trail with a game, athletic horse that is a joy to ride. I didn't even try to hide the huge grin on my face when B said I was more than welcome to ride the little gray mare from now on. I am forever grateful that J and B trusted me first with Dip, Lacey, and now Tina. We're going to have a lot of fun together I think.