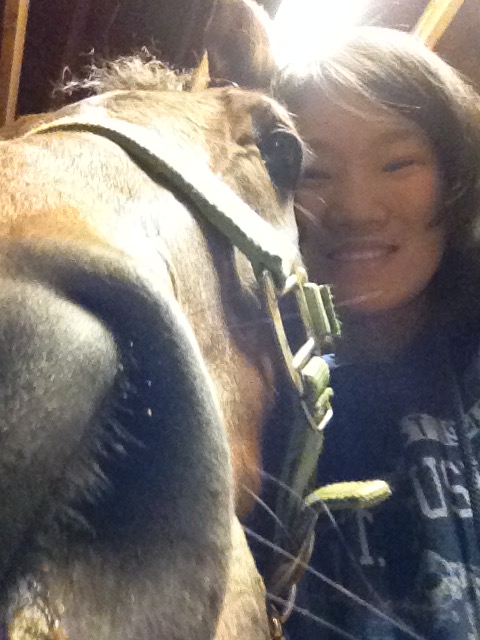 I have officially been a horse owner for 6+ months and as some of you know, I've been trimming Quest's feet since I got her. Owning a horse is much more than just grooming, tacking and riding. If my work schedule and living situation allowed it, I would do rough board and self-care but alas it is presently not possible.
I knew when I got my own horse I would prefer it to be barefoot if possible and fortunately miss mareface arrived from auction unshod. I wanted to be involved in my horse's hoofcare longterm by learning how to trim but for the first go I needed/wanted professional help. Her feet were solid but much too long and there was a crack from what looked like an old abscess in the LH, and a stone bruise in the RF.
Quest's first trim was in October last year when R set me up with a base to work from. Since then I've been doing all the work myself every 2 weeks or so. I have been pretty diligent with the schedule and keeping notes on what I did. About a month ago, my friend T scheduled R to come out to do her mare and asked me if I wanted him to do Quest as well. Her timing could not have been more perfect since I had planned to set up an appointment every 4-6 months to have R touch up and also to check my work.
R was finally able to came out to trim yesterday afternoon. I was unable to meet him since he came during work hours but my friend T was able to be there. I was a bit nervous because I've been the only person working on Quest's feet for almost half a year- anything wrong (or right) would be my doing entirely. T texted me updates and said I had done a good job though- Healthy, happy hooves all around.
I took down notes on what R touched up on for future reference and realized the things he did were all things I had noticed too and was working to address. This was a huge boost of encouragement. My main problem is I still (and probably always somewhat will) lack the brute muscle power to do take off a lot in a single trim so shorter frequencies between sessions work in my favor though it takes it longer for me to fix something. The upside to being physically limited in strength is that I won't ever take off too much in one session I guess!
It is super nice that Quest has rather solid feet to begin with and she handles rock and gravel well (SO much better than poor tender-footed Rori), though I am planning on booting her whenever we get to doing more distance with tougher terrain. Knowing how to trim for proper boot fitting will definitely come in handy. All in all, yesterday's trim was a positive progress check and I'm pleased that I have been doing a somewhat decent job with my mare's feet in the short time I've been at this.