Our area was recently hit with a series of snow storms in quick succession that forced us to hibernate indoors for a couple weeks. Fortunately the weather let up a little the past two weekends so I did two trips out to the barn to get my mareface time in.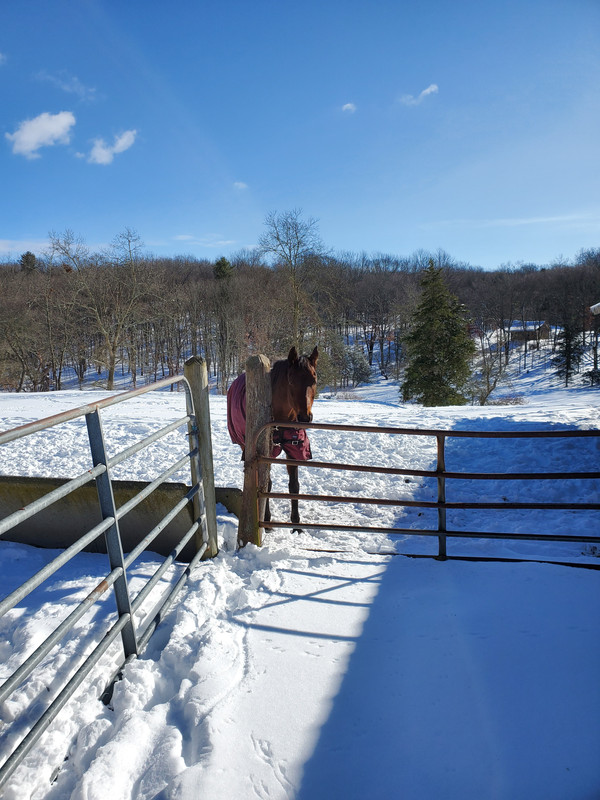 The first ride was with both my husband and Caleb in tow. I saddled Quest up and we hit the indoor arena since the footing outside was gnarly- very icy and slick. I didn't want to risk a slip and fall on a hidden ice patch (no trail ride is ever worth that kind of vet/hospital bill) so we played it safe.
Apparently most people at the barn had the same idea that day and the arena was packed with lessons and boarders. It was a bit much but Quest did her best to listen and work with me. We had a rough ride though- everything felt a little disjointed, mareface was unfocused and just wanted to get back to her pasture and friends. Before we called it a day, the arena finally quieted down enough that I was able to hop off and worked Quest on the lunge briefly to get her focus back. Even though we ended the ride on a slightly better note, I left the barn feeling completely exhausted and out of sorts. In hindsight and to be fair, I probably was just as preoccupied, unfocused, and also since I was still rebuilding physical strength after almost a year of not riding- I didn't give Quest the best ride I could.
The following weekend, I aimed to do better and since W had an online meeting/offered to watch Caleb, it was just me at the barn. I had planned to saddle up again but last minute, I decided to grab the DIY bareback pad and tacked Quest up in that instead. With the trails still slick and icy, we headed into the indoor and it was just as crowded again. I hopped on, feeling a little pensive for a rough ride ahead but I need not have worried.
Mareface was perfect as we went through our paces at all three gaits. She had a lot of pep in her step but was totally tractable and listened. She must have looked incredibly fancy too because we got compliments all around from the BO and her lesson clients. "She looks like she could be in a parade! She such a cute mover." "How old is she? Wow, she looks great for 16!"

The ride was the complete opposite from the previous weekend. We totally clicked and it felt so good. When I hopped (or hobbled) off after an hour, I had a content mare with plenty more to give however I was pretty tired! Nothing like a good bareback session to remind all those riding muscles how to really work again.